Top horror movie list of 2019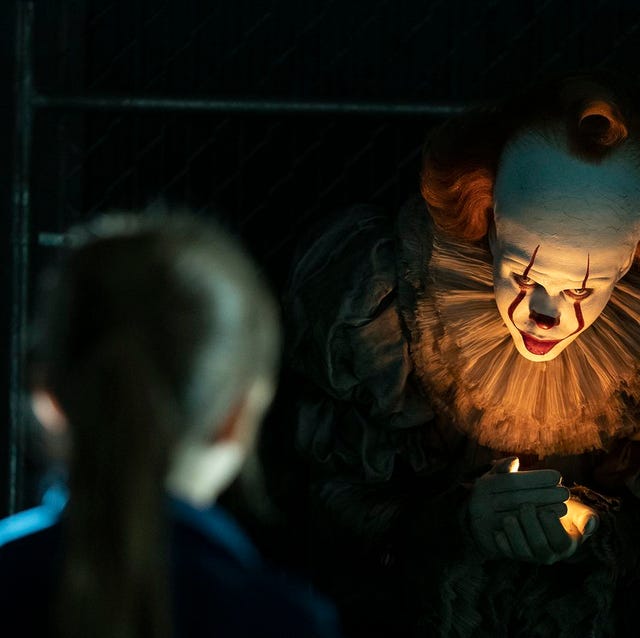 We're currently living in a new golden age of horror. As our real world becomes ever more terrifying, filmmakers have stepped up their game to use horror as a way to analyze the nightmare of our off-screen lives. That continues in 2019—from clever reboots of classic horror flicks, twisty genre-bending films, to a headier second swing at horror from Oscar winner Jordan Peele. This year is about feeling alive, and what better way to do that than getting the bejesus scared out of you? Skip that summer trip to Sweden, delete all your phone apps, and check out one of these films instead.
IT: Chapter Two isn't quite as great at its predecessor, but for anyone who was craving a dose of Stephen King's thrilling clown horror, this film is a solid choice. Balancing a bit of heart with its terrifying premise (nothing is scarier than a monster than manifests as your biggest fear), Pennywise returns to haunt the now-adult kids of Derry, 27 years after his first appearance. The cast for the sequel is insane, and even better when you see them with their child counterparts. It 2 may not go down as the best horror film, but it's a respectable entry into the Stephen King canon.
Honestly, this might be the scariest film of the year based on premise alone. Let's be real—our phones are definitely going to kill us. In Countdown, an app has gone viral and when you download it, it will tell you when you're going to die. Hilarious, right? The characters have the same reaction—until they determine that there seems to be a bit of truth behind the app when the numbers dial down. But an app can only be so omnipotent, so the leads in the film have to figure out what's happening before time literally runs out.
Like a socioeconomic re imagining of Get Out, in Ready or Not, if you marry up, you have to earn it. After marrying the guy she always hoped to end up with, a woman (Samara Weaving) has to survive the night while she is—wait a minute—hunted by her rich board game-business in-laws toting guns and miscellaneous weapons? Cool. Wonderful. Great. Bonus points for the film—it's essentially a throwback cast for anyone who relishes the late 90s and early 2000s. Adam Brody and Andie MacDowell round out the top-billed cast for the screwed up thriller. Does it sound bananas? Sure. But critics love it, and with the growing economic divide in America, this is the new American Dream. Sorry, we don't make the rules. Run.
This horror satire from Nightcrawler director Dan Gilroy is a mix of The Square and Eyes of Laura Mars, with Jake Gyllenhaal starring as an art critic who discovers that the mysterious paintings by an unknown artist have supernatural abilities—and take their revenge on anyone attempting to profit off of them.
What begins as your typical adolescent troubled behavior becomes much more sinister when a young boy begins to show signs not of hormones and puberty—but rather a terrifying demonic possession.
A sequel to the 2017 box-office hit sees the original protagonist once again stuck in a Groundhog Day-style time loop—only instead of becoming a better person, she has to figure out who is killing her and her friends over and over again.
Jordan Peele's follow-up to the smash hit Get Out looks like another terrifying thriller. Starring an impressive cast that includes Winston Duke, Lupita Nyong'o, Elizabeth Moss, and Tim Heidecker, it follows a family who are stalked and terrorized by a mysterious group of doppelgangers.
Jason Clarke, Amy Seimetz, and John Lithgow star in this remake of Stephen King's horror classic about a family who move into a New England house—only to discover some terrifying secrets about the backyard.
The Conjuring cinematic universe expands once again, this time following Father Perez from the hit spin-off Annabelle as he combats the ghostly La Llorana from Mexican folklore.
What if Superman were, in fact, the bad guy? That's the twist in this anti-superhero tale about a pair of parents who adopt a gifted child who arrives from outer space—only he doesn't use his supernatural powers for good.
While Jordan Peele was developing Us, his perfect villain in Allison Williams was finding her next horror role as well. The result is Netflix's The Perfection, which borders on inspired and absolute insanity. Following two cellists hellbent on becoming the best, the horror movie can lay claim to making string instruments scarier than we ever imagined.
Godzilla: King of the Monsters
Godzilla is back again, and this time he brings with him Mothra, Rodan, and King Ghidorah for an full-on kaiju war. Vera Farmiga, Millie Bobby Brown, Kyle Chandler, Sally Hawkins, and Ken Watanabe round out the human cast if you're hoping for something beyond giant monsters fighting each other.
Coming off an all-time great debut feature, the director of Hereditary's second feature film is brutal, wicked, and beguiling at every corner. Unlike Hereditary, it forces viewers to live in the horrifying world of Ari Aster's creation in vivid, broad daylight. The Toni Collette vehicle from 2018 was notable for taking paranormal scares and dialing them up to eleven. This film, however, confidently asserts itself into a place of hard realism. There are no ghouls or demons in Midsommar. Just an awful sense of real-life dread, and a particularly weird cult group.
The maniacal serial killer doll Chucky returns for another new outing, this time in a full-fledged reboot that stars Aubrey Plaza as a young mother who gives her son a truly terrible and demonic-possessed toy to play with.
content courtesy :esquire