Immortalizing Toni Morrison: Honoring the Legacy of a Pioneering and Inspiring Writer 88
An Honor to Toni Morrison
On Tuesday, a new stamp was unveiled in honor of Toni Morrison, a Nobel laureate and prolific writer, editor, scholar, and mentor. The dedication ceremony took place at Princeton University, where Morrison had taught for almost two decades. The event was attended by guest speakers, including former President Barack Obama, Michelle Obama, Oprah Winfrey, and the Librarian of Congress, Carla Hayden.
The ceremony began with a recording of Morrison's voice reciting a passage from her 1992 novel "Jazz," which describes the Harlem streets. The audience was then treated to an acapella performance of "Lift Every Voice and Sing," which is commonly known as the Black national anthem.
The dedication ceremony paid tribute to Morrison, who passed away in 2019 at the age of 88. Michael Cadden, a longtime Princeton lecturer who co-taught courses with Morrison and formerly served as chair of the Lewis Center of the Arts, hosted the event. Cadden introduced Pritha Mehra, the chief information officer and executive vice president of the United States Postal Service, who expressed the organization's pride in commemorating Morrison, the first Black woman to win the Nobel Prize for Literature in 1993.
"Our new stamp will be seen by millions, and forever remind us of the power of her words and the ideas she brought to the world," Mehra said.
Deborah Feingold, a photographer who took a portrait of Morrison for Time magazine's Jan. 19, 1998 cover that appears on the stamp, also spoke at the event. Morrison's son, Ford Harrison, and his family were in attendance as well.
Ruha Benjamin, a professor of African American studies who read a letter written by the Obamas, said, "Anyone who was lucky enough to meet (Morrison), knows that she was just as captivating in person as she was on the page. We hope that this postage stamp would make her smile, that she would love the idea of helping us connect through writing once again."
Winfrey, who started her book club in 1996 with Morrison's novel "Song of Solomon" in mind, praised her late friend Morrison during the dedication ceremony. "Over the years, I selected four of Toni Morrison's books to read as a community more than any other author," she said in a pre-recorded video.
Winfrey recalled Morrison's first appearance on "The Oprah Show" and how she talked about raising her boys as a single mother, leaving many in the audience moved. "I shared with her that, 'Ms. Morrison, sometimes your books are challenging and difficult for some people to read.' And she said, 'Well, think about how difficult they are to write,'" Winfrey said.
"But difficult or not, what she was able to do through her words (is) bring people from all over the country and the world together in an entirely new experience," Winfrey continued.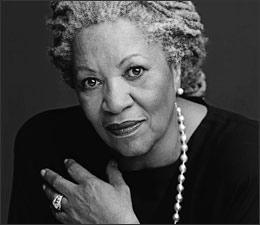 In addition to the dedication ceremony, several events have been scheduled throughout the month to celebrate Morrison's life and work. An exhibition exploring Morrison's creative process will be held at the university library through June 4. The exhibit features more than 100 pieces, some of which have never been seen before, including manuscripts, correspondence with other Black women, photographs, and hand-drawn maps she created while working on her acclaimed 1987 novel "Beloved." The exhibit also features some of the only existing drafts of "Song of Solomon," as well as various unfinished projects.
Later this month, a three-day symposium will take place with author Edwidge Danticat giving the keynote address. In April, Grammy-winning vocalist Cécile McLorin Salvant will perform. The events are intended to celebrate Morrison's legacy and impact on literature and culture.