Healthy Snacks For Kids | Healthy Snack Recipes
Snacking between meals is important but it is also important to eat the right food and not fill up on empty calories.
Highlights
Snacking is very essential for children.

Here we bring you some healthy snack recipes that are perfect for kids.
It's not easy to please a child, especially when it comes to food. They come back from school, tired and groggy, and all they want is something delicious. Before they head out for their evening game, they need to fuel up again. Snacking between meals is important but it is also important to eat the right food and not fill up on empty calories. More so, you there's a constant struggle between healthy and delicious. You can't fool your kids, you see. We have some great ideas for you, from homemade granolas to whole wheat burgers, healthy snacks your kids will absolutely love.
"Kids have small tummies and a big appetite and so they are unable to meet their daily nutrition needs with just major meals. Snacking is very essential for these tiny bundles of energy. While choosing snack options for kids keep in mind that the snack provides at least one important nutrient other than calories and proteins like calcium or iron. Moreover, your kid may not be able to consume a full meal at one time, so the missing portion can make a snack. For example, if the dahi is left out in a meal then you can use it in a smoothie later in the evening. Lastly, make snacks in sizes that can be eaten while running around rather than sitting with a plate," suggests Dr. Rupali Datta, Chief Nutritionist at SmartCooky. She also stresses that while snacking is crucial, you should monitor the snack intake and regulate what and when your child eats.
Mix up your daily routine and let your kids have some fun. Healthy eating need not be boring. Chef Arun Sundararaj from The Taj Mahal Hotel in New Delhi suggests some easy tips to up your child's health quotient while keeping them happy –
– Use healthy alternatives like olive oil to saute and fry
– Go for whole grain for dishes like multigrain pizza, millet cakes or ragi dosa.
– Sneak in seasonal fruits in sweet treats like mango muffins, whole wheat pancakes with cherries or make a          delicious crumble
– Present the food in an attractive way. For instance, strawberries sliced and presented in a shape of a flower,         cucumbers or baked potatoes in a shape of a boat filled with sprouts and pomegranate will seem attractive to     kids who normally avoid fruits and vegetables
– Substitute cheese and mayonnaise with homemade spreads like hung-curd and hummus. Hung-curd with tri-coloured bell peppers finely chopped makes for a delicious sandwich spread. You can also add some baby         carrots or other raw veggies to up the health quotient.
Fresh homemade snacks are the best choice as compared to ready to eat processed snacks. Here are some healthier alternatives to draw a smile on your child's face.
Recipe by Chef Seema Chandra
Sneak some calcium-rich ragi flour in cookies and your kids will never know. These crisp cookies are perfect for dunking in milk for breakfast or in the evening before they head out to play.
About Ragi Cookies Recipe: If you are someone who loves healthy snacking, this ragi cookies is meant for you. Calcium rich cookies with the goodness of ragi. Let your family enjoy these delicious cookies in the most guilt free way.
Ingredients of Ragi Cookies
1 Cup Ragi Flour
1/2 cup Khaand (a sweetening agent and a healthier substitute of sugar
1/2 tbsp Green Cardamom powder
2 pinches of Ginger Powder
1 tbsp Baking Powder
1/2 cup Oil (rice bran)
1 Egg (whisked)
1/2 tbsp Salt
1.
In a pan mix the ragi flour and cardamom powder. Then roast this gently on a tawa till the color gets a wee bit darker. (for a minute or two)
2.
In a bowl break an egg and whisk it. Add the roasted ragi and sugar into it.
4.
Add the dry ginger and salt to it.
5.
Then add the oil and mix well. It will look like a dark dough.
6.
Make round balls and flatten them in your palms.
7.
Pre-heat the oven for 5-7 minutes. Take a flat dish, put butter paper on it. No need to grease it.
8.
Place the biscuit roundels an inch away from each other and bake for 8 minutes at 180 degree Celsius.
Recipe by Chef Seema Chandra
This recipe cuts out unwanted refined flour, excess salt and preservatives in favour for healthier substitutes like whole wheat flour, flax seeds and oats.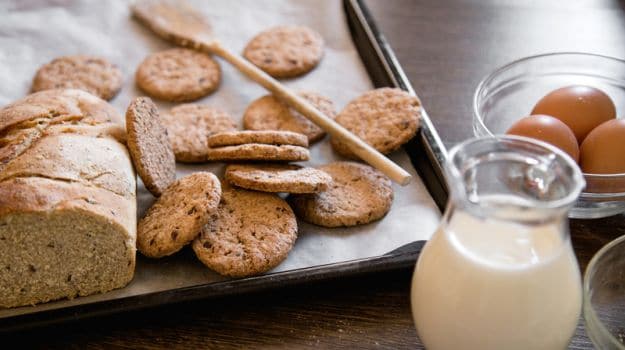 Stop serving fattening potato chips at every party and roll out a fresh whole grain dough to bake a batch of healthy crispy crackers. Serve these whole grain crackers with a zesty dip and you're sorted.
Ingredients of Whole Grain Crackers
1/2 Cup Whole wheat flour (atta)
1/2 cup Ground oats
2 tbsp Ground flax seeds
4 tbsp White sesame seeds, roasted
1 tbsp Red chilli pepper flakes
To flavour Sea salt
Chilled water
1 1/2 tbsp Oil
How to Make Whole Grain Crackers
1.
Grind the oats and the flax seeds. Mix all the dry ingredients.
2.
Add oil and knead till it becomes a ball. Then roll out the dough.
3.
Make little roundels with a cookie cutter or the lid of a bottle.
4.
Bake in a pre-heated oven, at 180 degrees for about 20 minutes. Store in an air-tight container and serve whenever you want.
Recipe by Chef Amit Dash, Courtyard by Marriot
Granolas are perfect to beat sudden hunger attacks and keep away unwanted cravings. Make a batch of small-sized, nutty granolas and store them in a place where your kids can easily reach them when hungry.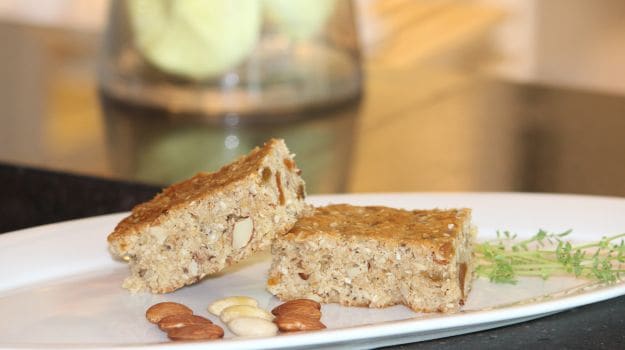 About Almond Granola Bar Recipe: A snack that both healthy and delicious. Your kids will love to nibble on this granola bar loaded with all good things like oats, wheat flour, jaggery, honey, almonds and sesame seeds.
Ingredients of Almond Granola Bar
225 gms whole wheat flour
225 gms jaggery
225 gms white oats
90 gms dry coconut powder
3 gram cinnamon powder
200 gms butter, melted
150 ml hot water
150 ml honey
5 gram baking powder
100 gms apricot
200 gms almond
25 gms sesame seeds
100 gms raisin
25 gms multigrain seed
How to Make Almond Granola Bar
1.
Boil water in a deep vessel. Add honey and jaggery to it.
2.
In a roasting pan roast, oats, coconut powder, almond, sesame seeds and multigrain seeds.
3.
Combine all the above ingredients in the container with the jaggery honey mixture. Mix well.
4.
In a shallow baking tray put silver foil evenly and put the mixture.
5.
Bake the bar at 180 degree Celsius for 25 to 30 minutes.
6.
After baking the bar, cool it down and cut it into convenient pieces and serve.
Recipe by Ramya Parameswaran
Serve a plateful of these mini idlis that hide vegetables like carrots with the goodness of oats.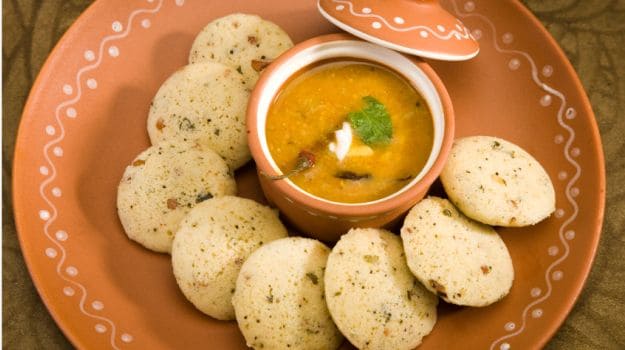 About Low Calorie Oats idli Recipe: Low on calories and healthy, these idlis are made with oats and grated carrots. Ideal for those who are calorie conscious. Oats being rich in minerals, vitamins and proteins gives this dish a high nutritive value without compromising on the delicious taste. Easy and quick to make, this Low calorie oats Idli recipe is just perfect for a good and healthy breakfast or brunch at home.
Ingredients of Low Calorie Oats Idli
2 Cups oats
1/2 litre curd (slightly sour)
1 tbsp mustard seeds
1 tbsp urad dal
1/2 tbsp channa dal
1/2 tbsp oil
2 tsp green chillies, finely chopped
1 cup carrots, grated
2 tbsp coriander, finely chopped
1/2 tbsp turmeric powder
2 tbsp salt
A pinch of fruit salt
How to Make Low Calorie Oats Idli
1.
On a tawa, dry roast the oats until it turns slightly brown and then powder the oats in a mixer.
2.
In a pan, add oil, mustard seeds, urad dal, channa dal and allow the mustard to splutter and the dals to turn golden.
3.
To this, add the chopped chillies, coriander and grated carrots.
4.
Add the turmeric powder and fry for a minute.
5.
Add this seasoning to the powdered oats mixture and add the curd to it to make a batter like that of idli batter's consistency.
6.
You can add as much curd to the mixture to achieve the consistency, but do not add water to the batter.
7.
Grease the idli steamer plates with oil and pour the batter into each area of the steamer.
8.
Steam the idlis for 15 minutes.
9.
Note: To know if the idli is cooked, poke an idli with knife and check if the batter does not stick to the knife.
10.
Once done, remove the idlis and serve with Onion chutney.
Recipe by Chef Seema Chandra
Rid yourself from the endless trouble of getting your child to eat healthy. Put forth a plate of this nutmeg infused oats and apple crumble, which is both appetizing and healthy.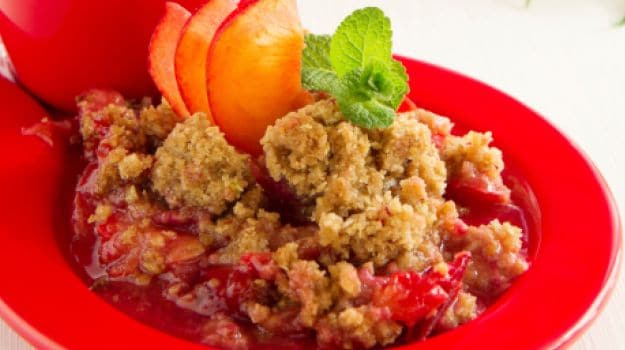 About Oat Apple Crumble: A delicious crumble made from oats, apples, no flour packed with flavors of cinnamon, lemon and nutmeg. Indulge yourself in this divine recipe.
Ingredients of Oat Apple Crumble
Apple filling:
4 large apples, thinly sliced
Juice of 2 lemons
1 tsp cinnamon powder
2 Tbsp jaggery or gur, grated
2 Tbsp light brown sugar
A pinch of nutmeg
Grated lemon zest
Oat Mix:
1 cup porridge oats
2 Tbsp light brown sugar
1/2 tsp cinnamon powder
2 Tbsp chilled white butter, diced
How to Make Oat Apple Crumble
1.
Take a wide bowl, add lemon juice to the cut apples. Add the two sugars, cinnamon and nutmeg, lemon zest and mix well with your hands. As an option, you can add a tablespoon of marmalade. Leave this for 30 minutes.
2.
Mix the oats, sugar and cinnamon, then add the butter and crumble the mixture with your hands.
3.
Now take a baking pan. Sprinkle a bit of the oat mixture at the bottom. Then add the apples and sprinkle the rest of the oatmeal mixture on top of it.
4.
As an option, you can grate a little bit of extra butter on top. Put this in a preheated pan to bake at 190 degrees centigrade for 40 minutes or till the crumble is browned and the apples look gooey.
5.
You can add the brown sugar and cinammon to both the apples as well as the oats for extra flavour.
Recipe by Plavaneeta Borah
Filled with the goodness of dates and cashew and the sweetness of coconut. These bite-sized and wholesome rounds will make for a good evening snack for your little one.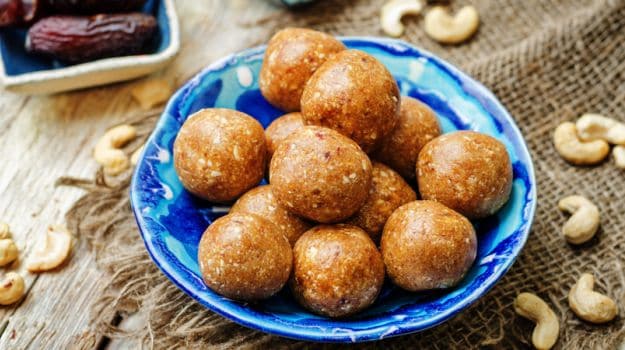 This energy booster is the perfect snack to nibble on. Loaded with the goodness of dates, cashew nuts and coconut, you can also throw in some seeds of your choice.
Ingredients of Dates and Cashew Vegan Balls
1 cup dates, deseeded
1 cup cashew nuts
1/2 cup grated coconut
A pinch of rock salt
1 Tbsp virgin coconut oil
How to Make Dates and Cashew Vegan Balls
1.
Soak the dates in water for 1 hour. Drain and pat dry.
2.
In a food processor, add the cashew nuts and grated coconut and blend until nice and crumbly.
3.
Add the dates, salt and virgin coconut oil and pulse again until you acquire a sticky mixture.
4.
Take small scoops of the mixture on your palms, and roll to form balls.
5.
Place the balls on a baking tray lined with parchment paper, and refrigerate for atleast 1 hour.
Article Courtesy@NDTV