"Climate change's growing impact on public health and sustainable development goals"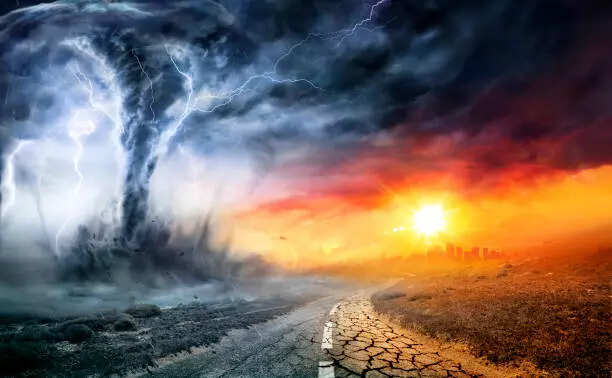 The World Health Organization (WHO) Warns of 250,000 Additional Annual Deaths Due to Climate Change
The World Health Organization (WHO) projects that climate change would cause an additional 250,000 fatalities annually, and statistics suggest that one in four of these deaths can be attributed to "preventable environmental causes."
New York Officials Address Climate Change as a Public Health Crisis
In New York, officials have cautioned that the climate issue is evolving into a public health crisis. They have called for enhanced training, research, and resilience measures to address these pressing concerns during the U.N. General Assembly.
UN's Sustainable Development Goals (SDGs) Highlight Climate Change and Public Health
The U.N.'s Sustainable Development Goals (SDGs) for 2030 include 17 headline targets, with only 15% of them on track amid a world beset by crises. Two of these headline targets focus on combating climate change and enhancing public health.
Climate Change's Health Impacts Go Beyond Fatalities
The World Health Organization (WHO) predicts that climate change would result in an additional 250,000 deaths yearly, despite statistics showing that "preventable environmental causes" account for one out of every four fatalities. Rising temperatures, severe weather, air pollution, wildfires, and insecure water and food supplies not only cause fatalities but also worsen infectious diseases and induce heat-related sickness, according to the U.N. agency.
COP28 to Spotlight Climate Change and Health
This year's COP28, the annual U.N. climate summit, will dedicate a day to health and hold a ministerial debate on the topic of climate change and health for the first time. COP28 is scheduled to commence in late November in Dubai. The connection between health and climate change, although evident, has not received specific attention in the COP process, prompting calls for change.
Climate and Health Challenges Threaten Sustainable Development
Experts warn that other critical pillars of the sustainable development agenda, such as poverty reduction and women's rights advancement, are at risk due to the adverse effects resulting from the intersection of climate and health challenges. World Bank estimates suggest that up to 1.2 billion people could be displaced by 2050, and up to 132 million people may live in poverty by 2030 due to climate-related health effects.
Addressing Women's Rights in Climate Adaptation
Maliha Khan, president and chief executive officer of the advocacy organization Women Deliver, highlights that girls and women often bear the brunt of the cost of adapting to climate change. They may be forced to drop out of school or take on additional work. Khan calls for comprehensive sexual and reproductive rights, as well as health services, to empower women to cope with climate change's repercussions.
Initiatives to Address Climate Change's Health Impact
Health charities and organizations are launching new programs to address the harmful effects of climate change on health and raise awareness of the connections. The global health organization Americares has partnered with Harvard University to better equip neighborhood health centers that commonly treat people with limited means and those without insurance, particularly those who frequently experience severe weather conditions like heat.